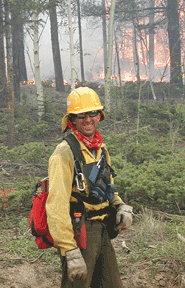 The Boulder Tree Service provides fire mitigation services under the leadership of Eric Bader. Eric will work with you to develop a mitigation plan for your home that addresses privacy, noise, dust, views, and your love of the natural environment. It will balance your needs with the health of the forest, fire department concerns, insurance requirements and defensible space. Being a professional Wildland Firefighter, he has seen many burned homes and homes that survived a wildfire. His experience makes him the best in Boulder County at wildfire mitigation!
Eric has been a member of the Sunshine Fire Department since building his home in Sunshine in 1990. He recently completed a five-year term as Fire Chief.
Eric has trained with the Forest Service, Park Service, BLM, BIA on fire mitigation and forest health. He is certified as a wildland sawyer and has served as an engine boss, task force leader, division group supervisor on fires throughout Boulder County and the USA. He has been part of a team saving hundreds of homes from fires and has seen many homes that have been lost to fire. He has a great appreciation for what makes a house defensible.
In 2011, Eric's house was in the Four Mile Fire, a fast moving extreme fire. His house did not have fire fighter protection when a canopy fire, (a fire burning through the tree tops) ran up to and engulfed his house. His house split the head of the fire. His house and trees survived.
Additional information on how mitigation saved this home.
Fire mitigation removes fuels around your house that can create increased heat and exposure to your home in the event of a wildland fire. Wildland fires include grass fires, brush fires and forest fires. The impact of these fires can be minimized or mitigated by creating a defensible space and taking other actions to reduce the intensity of the fire and help fire crews fight fires that may threaten your home.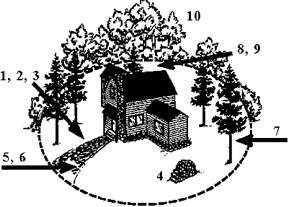 Defensible space is an area around your house where fuels and vegetation are treated, cleared or reduced to slow the spread of fire. This area allows firefighters to protect your home from an advancing wildfire. Without defensible space, firefighters cannot safely fight the fire and cannot put their lives at risk to protect property. By creating a defensible space, you increase the odds of your house surviving a wildland fire. Thinning trees, removing brush, mowing grass, and limbing up trees near the house reduces the intensity of the fire around your home. Creating breaks in the vegetation, including breaks between trees, around your house provides natural barriers that help firefighters slow the fire and reduce potential loss.
There are a number of contractors who offer fire mitigation services in Boulder County. When selecting one to do your work, please consider the following and ask potential contractors how they address each of these concerns:
1. Effective fire mitigation removes fuels from around your house. Slash left under trees or piled under overhanging branches feeds a grass fire and allows it to move up into the trees and become more difficult to fight.
2. The method known as "lop and scatter" leaves branches scattered on the ground to break down naturally. This method is not effective in the foothills of Boulder County. Due to our elevation and dry climate, the branches do not break down fast enough to reduce fire danger. Although contractors often offer this as a less expensive option, if you lop and scatter your thinning project you may actually increase your fire risk.
3. To actually remove the fuels created by thinning and limbing trees, you must burn, haul or chip your slash.
4. Disposing slash in mine shafts is a very dangerous practice. If it is burned, it may ignite gases or old dynamite, or start underground fires. If left over time, it will be covered by dirt and debris. As the slash decays it can create soft spots that collapse when walked on.
Because trees and shrubs continue to grow, trees drop their leaves and needles, plants die and new plants sprout up, defensible space requires annual maintenance. As a homeowner, you can help prepare your house for the threat of wildfires by performing the following mitigation activities annually.
1. Thin trees and brush
2. Dispose of slash and debris from thinning
3. Remove dead limbs, leaves and other litter
4. Stack firewood away from your home
5. Maintain an irrigated greenbelt
6. Mow dry grass and weeds
7. Prune branches 10 feet above the ground
8. Trim branches away from the roof
9. Clean roof and gutters
10. Reduce the density of the surrounding forest
By creating a defensible space around your house you increase the potential for your house to withstand a wildland fire and make your home more defensible by firefighters.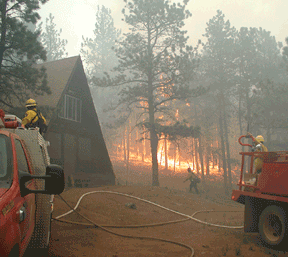 The foothills of Boulder County are a beautiful backdrop to the City of Boulder and residents of mountain homes. Years of fire suppression and aggressive protection of homes from wildland fires started naturally by lightning or by human sources have allowed the forests to become thick with pine, spruce, shrubs, and grasses. Without human intervention, the natural cycle of the forests would be to burn every few years, reducing the fuel loading and naturally thinning the vegetation.
By removing fire from the forests through fire suppression, we have allowed the fuels to become thick and the forests to become less healthy. These two factors are important ingredients in increased fire danger in the wildland-urban interface area of the foothills. Thinning the vegetation through cutting restores your property to a more natural state, improving the health of the forest and making your property more resistant to wildland fires.
Example of how our mitigation has saved a house.
For more information on defensible space and the protecting your home and property from fire, call Eric at the Boulder Tree Service, 303-444-8420 or visit the following websites:
Firewise
CSU Cooperative Extension
(a great resource for yard, garden and insects)